Flatline Compressor
Posted Mon, 2009-09-07 23:48 by Harold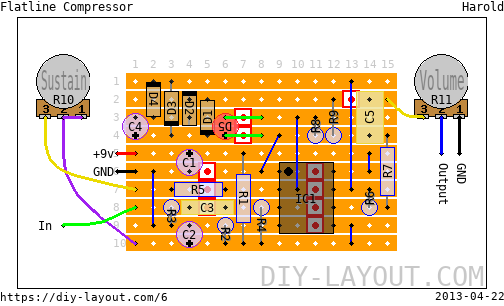 Project description
A nice and transparent compressor based on this schematic by John Hollis.
The weird LED/green wire combination represents an optocoupler. I've used the VTL5C2 in 2 of my builds. Here's a nice read about them optocoulers and LED/LDR combo's: http://home.orange.nl/fvrijswijk/guitar_electronics_diy/flatline_compres...
The flatline is really suitable for use on bass and can even give a nice boost to drive a tube amp into fat crunch!
Bill of materials
Resistors
R1: 10K
R2: 10K
R3: 10M
R4: 10M
R5: 10K
R6: 47K
R7: 10K
R8: 220K
R9: 330R
Potentiometers
R10: 100K Log (A)
R11: 100K Log (A)
Capacitors
C3: 1nF
C5: 1μF
Electrolytes
C1: 10μF
C2: 10μF
C4: 100μF
Diodes
D1: 1N34A
D2: 1N34A
D3: 1N34A
D4: 1N34A
6 jumper wires
10 trace cuts
List
Click here to see the bill-of-materials as a list or download it as a comma separated values file (.csv).
Code
BB Forum code

HTML code