IC Buffer
Posted Thu, 2009-12-03 12:35 by Harold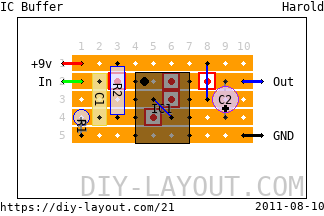 Project description
Based on this schematic by Jack Orman and the layout by Carsten Bocker.
Verification status
There seems to be an error in the layout, although I remember building one that worked?!? Anyway: give me a few days to sort it out and I'll get back on this!
Mods
Use 2.2M for R1 and R2 for higher input impedance (General Guitar Gadgets).
Bill of materials
2 jumper wires
5 trace cuts
List
Click here to see the bill-of-materials as a list or download it as a comma separated values file (.csv).
Code
BB Forum code

HTML code