Voltage doubler (9 to 18v)
Posted Mon, 2009-11-30 23:23 by Harold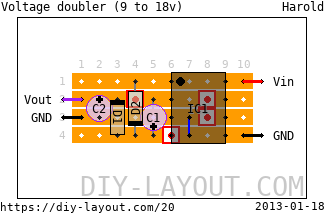 Project description
The voltage doubler will double the input voltage to get 18 Volts out of 9 Volt input. Up to 24 volts can be reached using this device, just make sure C1 and C2 can handle that voltages!
Use a LTC1054 to get 50mA instead of the 10mA an ICL7660S can handle.
Bill of materials
Electrolytes
C1: 10μF
C2: 10μF
Diodes
D1: 1N5817
D2: 1N5817
1 jumper wires
4 trace cuts
List
Click here to see the bill-of-materials as a list or download it as a comma separated values file (.csv).
Code
BB Forum code

HTML code