Xotic EP Booster
Posted Sun, 2011-07-10 22:06 by admin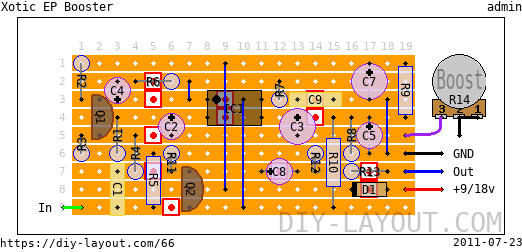 Project description
The legendary echo machine EP-3 pre-amp as designed by Xotic. The EP Booster provides up to +20dB of boost with shimmering highs and lows. The DIP switches let you choose the boost frequencies, and EQ settings.
Verification status
I built it and it sounds awesome! It instantly replaced my LPB-1 as the Xotic has more presence and nice, singing notes with lots of sustain without sounding muddy, shrill or dark.
Schematic
I've used this schematic found in a project page for the PCB version of the EP Booster.
Voltage
The original EP preamp was designed to run on 18v DC. Using a higher voltage than 9v DC will provide a little more boost and some added clarity with less grain.
Just make sure C4 and C7 can handle the voltage with at least 25% over capacity!
Bill of materials
Resistors
R1: 4.7K
R2: 8.2K
R3: 1M
R4: 33K
R5: 1M
R6: 1K
R7: 15K
R8: 10K
R9: 10K
R10: 1M
R11: 10K
R12: 47K
R13: 100R
Potentiometers
R14: 10K Reverse log (C)
Capacitors
C1: 47nF
C9: 3.3nF
Electrolytes
C2: 10μF
C3: 100μF
C4: 10μF
C5: 10μF
C7: 47μF
C8: 10μF
DIL IC's
IC1: 2 pole DIP switch
Transistors
Q1: 2N5457
Q2: 2SC1815
4 jumper wires
12 trace cuts
List
Click here to see the bill-of-materials as a list or download it as a comma separated values file (.csv).
Code
BB Forum code

HTML code