ZVex Super Hard-On (SHO)
Posted Tue, 2010-11-02 13:19 by Harold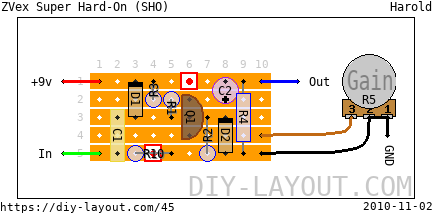 Project description
This is probably the most copied booster out there. Simple and effective, but can be a bit muddy at higher gain settings.
R10 is an optional anti-pop pulldown resistor.
Bill of materials
Resistors
R1: 10M
R2: 10M
R3: 5.1K
R4: 100K
R10: 1M
Potentiometers
R5: 5K Linear (B)
Diodes
D1: 1N4148
D2: 1N4148
List
Click here to see the bill-of-materials as a list or download it as a comma separated values file (.csv).
Code
BB Forum code

HTML code