Voltage inverter (+9v to -9v)
Posted Tue, 2010-08-31 10:13 by Harold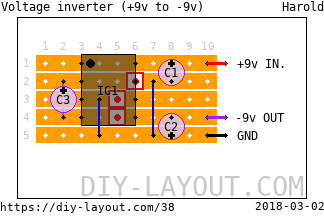 Project description
This voltage inverter can be used to power a positive ground pedals. Using this inverter you now can combine both positive and negative ground pedals on one daisy chain!
Use a LTC1054 to get 500mA instead of the 100mA an ICL7660S can handle.
Bill of materials
Electrolytes
C1: 2.2μF
C2: 100μF
C3: 10μF
2 jumper wires
3 trace cuts
List
Click here to see the bill-of-materials as a list or download it as a comma separated values file (.csv).
Code
BB Forum code

HTML code