Tillman's Discrete FET Guitar Preamp
Posted Sun, 2010-07-25 00:54 by Harold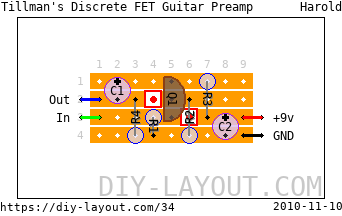 Project description
This is the famous Tillman Discrete FET preamp and can be used as preamp for piezo pickups or as a 3dB boost in general.
I ditched the J201 mentioned in the original design and replaced it with a 2N5485. Adjust R3 to set the drain to 6-7v. I used a potmeter to find the correct value.
I've placed one in front of my ValceCaster to boost the input signal and add some clarity.
Bill of materials
Resistors
R1: 3M
R2: 2.2K
R3: 6.8K
R4: 51K
Electrolytes
C1: 4.7μF
C2: 10μF
List
Click here to see the bill-of-materials as a list or download it as a comma separated values file (.csv).
Code
BB Forum code

HTML code