FET Mini-blender
Posted Tue, 2010-03-30 22:16 by Harold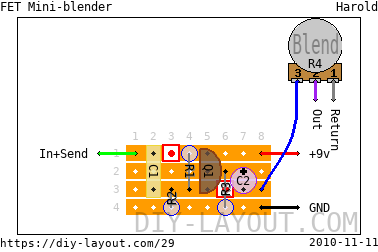 Project description
A nice and simple blending circuit to blend an effect with yout clean signal, based on this schematic by Sean MacLennan.
This design blends up to about 90% wet or dry and only works correctly if the signal's phase isn't inverted in the blended effect!
I've used it a couple of times for adding fuzz or distortion to a bassguitar without losing any low end.
Bill of materials
Resistors
R1: 2.2M
R2: 2.2M
R3: 4.7K
Potentiometers
R4: 50K Linear (B)
List
Click here to see the bill-of-materials as a list or download it as a comma separated values file (.csv).
Code
BB Forum code

HTML code